We don't have a regular break room in our practice. Is it OK to eat "light" snacks in the treatment area or an exam room?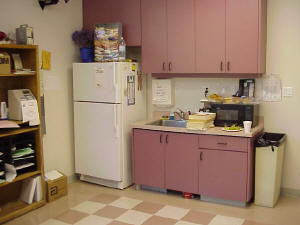 There is no regulation that requires any practice to provide a break room for the staff; however, if the practice ALLOWS the staff to store, prepare or consume food on the premises, the practice must provide a place that is free from biological and chemical hazards. In short, the staff can not be allowed to store, prepare or consume food in areas where these hazards exist.
Because the veterinary hospital is just that... a hospital, we must accept that certain activities are not appropriate in all areas of the facility. And since one of the most frequent ways pathogenic organisms and hazardous chemicals enter the body is through the nose and mouth, extreme care must be taken when taking breaks or meals. Since we can't really control the movement of those dangerous pathogens in the air currents of the facility, we must take measures to control the places where food is stored, prepared or consumed in order to prevent unintentional contamination. In the veterinary practice, this is generally interpreted to mean that food for human consumption of any kind should not be allowed in the medical, kennel or bathroom areas of the hospital.
This same logic also means that food for human consumption should never be stored in the same area, cabinet, refrigerator or freezer with lab samples or chemicals. Since animals are not covered by OSHA, there is no prohibition in keeping animal feed in any of these areas, however, precautions to prevent contamination by chemicals or biological pathogens is always a wise course. It is acceptable to store wholesome animal feed in the same area as human food, provided there is no chance of contamination with pathogens. For instance, it would be acceptable to store processed dog or cat food in the refrigerator with the staff's meals, but it would not be acceptable to store unprocessed chicken or rodents for feeding raptors in the same refrigerator with the staff's meals.
Food should never be prepared in a hazardous area either. Staff coffee pots or "condiment drawers" should not be located near sources of contamination such as the lab, kennel, bathing area, dental station or chemotherapy treatment room. Cabinets and shelves above a coffee or food preparations area should be free of hazardous chemicals or supplies. The food preparation area must be maintained in a safe and sanitary manner.
Did You Know...?
According to the Centers for Disease Prevention & Control (CDC), each year, 1 in 6 Americans gets sick by consuming contaminated foods or beverages.
And in a 2012 study, reasearchers at Kimberly-Clark Professional analyzed nearly 5,000 surfaces in "average" office buildings. The dirtiest office surfaces found were:
75% of break room sink faucet handles
48% of microwave door handles
27% of keyboards
26% of refrigerator door handles
23% of water fountain buttons
21% of vending machine buttons
http://healthland.time.com/2012/05/24/the-6-dirtiest-places-in-the-office/